Interviews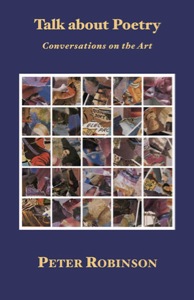 Collection of interviews: read more
Here
Elsewhere
Making something of life (with Michael Bradshaw)
The Poetry Kit interviews'(with Ted Slade)
There has to be torque in poetic talk (with Marcus Perryman)
---
'A reader in mind'
Peter Robinson in conversation with Jane Davies
Jane Davies: Can you tell us about what you think happens when you finish poems and they go out into the world - either at a reading or in published form? Do you ever think about their future? read more...
---
'Whatever serves the poem is right'
Peter Robinson in conversation with Peter Swaab
Peter Swaab: Stravinsky was asked one time whether he would consider teaching in a university, and he answered that he wouldn't, not because he had any hostility to academic criticism of music, but read more...
---
'Through frosted glass'
Peter Robinson in conversation with Ian Sansom
Ian Sansom: John Ashbery recently described your work as 'curiously strong' and you've also been called the finest poet of your generation. You've published two collections with Carcanet, read more...